The Business Development Board of Palm Beach County ("BDB") today launched a comprehensive workforce study to analyze the area's labor force, as part of its ongoing commitment to keep Palm Beach County a premier business destination. With support from JP Morgan Chase, the workforce assessment is supported and will be guided by a PBC Skills Team comprised of the BDB, Chamber, municipalities, Career Source, Economic Council and educational leaders who convened today at the West Palm Beach Hilton for a project briefing presented by Boyette Strategic Advisors ("Boyette").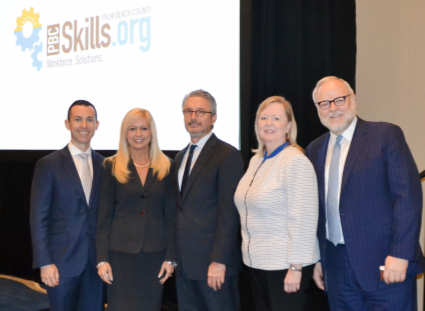 Boyette will work with local leaders to analyze the county's regional labor market and assess available skills and the overall quality of the workforce within targeted industry sectors.   The project will also include a skills gap analysis and recommendations for enhancing workforce quality in Palm Beach County.  The process will take five months with oversight from the PBC Skills Team to ensure the implementation is focused on enhancing our workforce and expanding Palm Beach County's competitiveness for job creation and capital investment.
"We want more people to share in the benefits of a growing economy by creating sustainable paths to careers that lead to prosperity and wealth for more individuals," said Guillermo Castillo, head of Middle Market banking at JPMorgan Chase & Co. "The analysis conducted by the Business Development Board of Palm Beach County, Inc. will help us achieve this goal."

Kelly Smallridge, BDB President & CEO said, "Attracting talent is the top factor considered when expanding and relocating companies to the county.  This partnership with JP Morgan Chase reflects Palm Beach County's continued diligence in ensuring that our workforce is the best-prepared for high-demand occupations. Using a comprehensive methodology that combines quantitative and qualitative data, Boyette will identify high-demand occupations in Palm Beach County, assess regional workforce assets and determine any challenges to meeting future talent demands within key business sectors that drive the county's economy."
A critical component of this project will be seeking input from various audiences across the county to thoroughly understand employer expectations and the skills and employment needs of our residents. Since the future talent pipeline is so important to business prospects, Boyette will seek input from high school and post-secondary students in the county, as well as our area educators.

To facilitate this input from various stakeholder groups, Boyette has developed a series of online surveys for employers, residents, post-secondary students and high school counselors, which are available on the project website at www.PBCSkills.org. These surveys take only a few minutes to complete, and a broad range of participants from all across the county are encouraged to become a part of the process. This data will be invaluable in providing programs to support our existing employers and to continually upskill our workforce as talent demands evolve.
The study recommendations, which will be collaborative and founded in data and analytics, will identify opportunities to enhance the existing skills of our workforce, align workforce training opportunities with high-demand occupations, and address potential barriers to employment that might exist for Palm Beach County residents.
Smallridge calls upon all Palm Beach County businesses and professionals to make their voices heard.  "Your participation is so important to the success of this project. Please take just a few minutes of your time to complete the appropriate survey and share your thoughts about the Palm Beach County workforce and potential job opportunities," Smallridge said.
About the BDB: The Business Development Board of Palm Beach County is the official public/private economic development organization for Palm Beach County and Enterprise Florida.  Founded in 1982 as a not-for-profit corporation, our primary purpose is to attract and retain new industry, business investment, high quality jobs and workforce development through corporate relocations, expansions and international trade. During the past five years, the BDB has assisted companies that have created more than 13,382 direct jobs with average salaries greater than $69,923, resulting in more than $668 million in capital investment to Palm Beach County and an economic impact that exceeds $7.33 billion.  Additional information can be found at the BDB's web site, BDB.org.
About JPMorgan Chase
JPMorgan Chase & Co. (NYSE: JPM) is a leading global financial services firm with assets of $2.6 trillion and operations worldwide. The Firm is a leader in investment banking, financial services for consumers and small businesses, commercial banking, financial transaction processing, and asset management. A component of the Dow Jones Industrial Average, JPMorgan Chase & Co. serves millions of consumers in the United States and many of the world's most prominent corporate, institutional and government clients under its J.P. Morgan and Chase brands. Information about JPMorgan Chase & Co. is available at www.jpmorganchase.com.
###