The Business Development Board of Palm Beach County (BDB) unveiled a collaborative, multi-platform campaign to create awareness about the vital importance of supporting local businesses. In an effort to generate support for local businesses and help bolster Palm Beach County's "recovery economy," a 40-foot banner was installed on the west wall of its West Palm Beach headquarters at 310 Evernia Street that encourages businesses and citizens to buy local, meet local, eat local, stay local, play local, dine local, etc. This message will also appear in hundreds of email signatures, email campaigns and newsletters over the next six months from members of the business community, as well as the Economic Council of Palm Beach County.
With its word-cloud of specifics ghosted in the background, the banner's BUY LOCAL message features a Google maps-style 'pin drop' that contains an adapted version of Palm Beach County's logo within the 'O' in the word "Local." Created by BDB chair and advertising/PR expert Carey O'Donnell, it's designed to be adapted to multiple platforms by the campaign partners, including as an addition to email signatures, websites, social media pages, newsletters, posters, and more.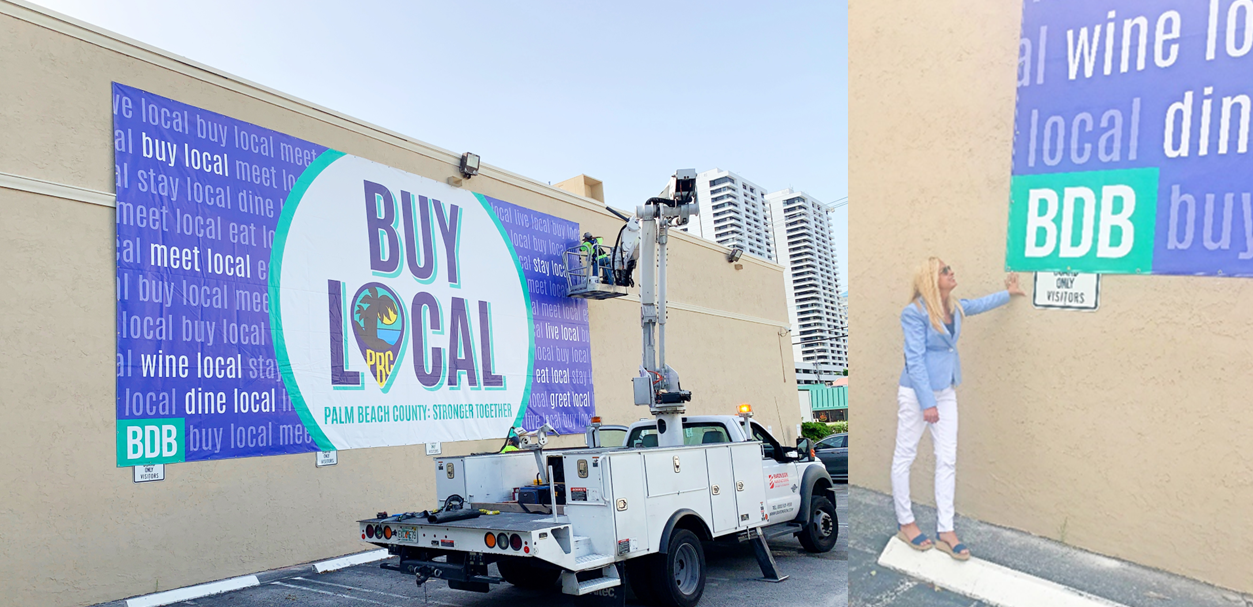 "The bottom of the banner includes a tagline we thought was important to emphasize," said Kelly Smallridge, President and CEO of the Business Development Board. "Palm Beach County: Stronger Together is our urgent message. If we support one another financially and shift purchases to local sources, we will recover quicker and help our local businesses get back on their feet. That's our goal. Individually we can absolutely move the needle in the right direction."
For more information on the Invest Local campaign on the BDB, please visit bdb.org. If you'd like an electronic copy of the BUY LOCAL message to add to your email signature, please contact Kristen Boyd at kboyd@bdb.org.
About the Business Development Board: The Business Development Board of Palm Beach County is the official public/private economic development organization for Palm Beach County and Enterprise Florida. Founded in 1982 as a not-for-profit corporation, our primary purpose is to attract and retain new industry, business investment, high quality jobs and workforce development through corporate relocations, expansions and international trade. During the past five years, the BDB has assisted companies that have created more than 12,822 direct jobs with average salaries greater than $69,062, resulting in more than $777 million in capital investment to Palm Beach County and an economic impact that exceeds $6.87 billion. Additional information can be found at the BDB's web site, BDB.org.