WEST PALM BEACH, FLA – To further attract more business investment and quality jobs to Palm Beach County, the Business Development Board (BDB) and the School District of Palm Beach County jointly hosted high school students on February 12 to inform them of local job opportunities.

Since the event's inception in 2015, nearly 5,000 high school students have participated in the "Claim Your Future Showcase". This forum allows students to interact with companies such as Aerojet Rocketdyne, LexisNexis, Biotest Pharmaceuticals, Florida Crystals, Pratt & Whitney, and Florida Power & Light. The event has facilitated numerous connections between business leaders and students.
Rick Seymour, CEO of Carpenter Electric, said, "I am small business leader of an electric and low voltage contracting company.  I serve as the President of the Electronic Security Association of Florida and a board member of the Florida East Coast Chapter of the Independent Electrical Contractors Association. I cannot express how valuable it is to have access to the PBC high school students to talk about the exciting career potential in the trades."  Each year, students at the event sign up to visit his company's program at Palm Beach State College and learn about scholarship opportunities within the trades industry. In addition, Lt. Patricia R. Brown of the Palm Beach County Sheriff's Office has mentored a student she met at the Claim Your Future Showcase a few years ago.  The student will graduate and start his own non-profit to inspire even more students in the future.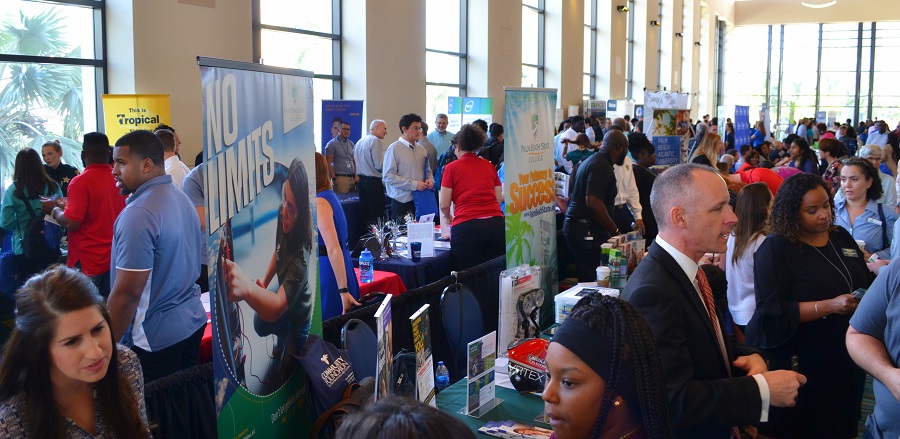 The fourth annual showcase was held on February 12, 2019 and included an exhibitor hall with 50 diverse companies representing industries such as aviation, aerospace, engineering, manufacturing, life sciences, trades/construction, financial services, public safety, infotech, and corporate headquarters. It also included a series of panels with representatives from Florida Power & Light, Palm Beach Sheriff's Office, Enhance Advisors, JFK Medical Center, Pratt & Whitney, GliddenSpina, Verdex Construction, and Carpenter Electric. Junior Achievement of the Palm Beaches provided an entrepreneurial moderator, the Founder of Pipers Angels.
CareerSource Palm Beach County kicked off the event with a soft skills session where students learned the basics of interacting in the professional world, a skillset that's been in high demand across all industry sectors. Michael Corbit, Director of Business Development, CareerSource Palm Beach County, said, "It's a great community event that provides local high school students the opportunity to interface with local businesses to help them identify potential career paths in Palm Beach County."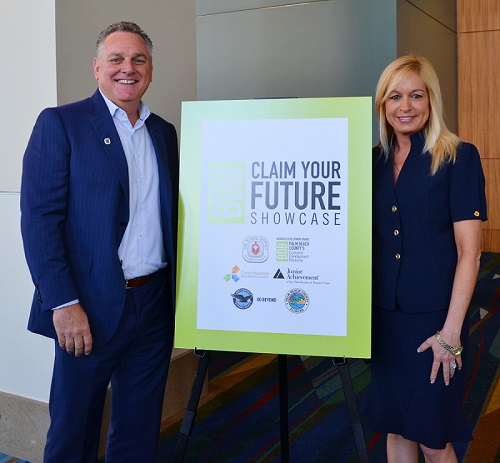 Dr. Peter Licata, Assistant Superintendent of Choice and Innovation for the School District of Palm Beach County, said, "This event is a culmination of an entire community of stakeholders coming together and providing information for our future workforce. It's great to see the partnership of the BDB, CareerSource, and the School District of Palm Beach County aligning our efforts to benefit Palm Beach County and our students." Kelly Smallridge, President and CEO of the Business Development Board, said,  "This extraordinary partnership demonstrates that the County is a community that means business and invests in the future of our workforce.  As more companies are attracted to the advantages of doing business here, Palm Beach County will be ready with a skilled and informed pool of qualified workers."
The 2019 Claim Your Future Showcase sponsors included the BDB's investor partners Pratt & Whitney, Aerojet Rocketdyne, Bank of America, and Boynton Financial Group. Prize giveaways were provided by ESPN West Palm, SunFest and Chic Filet, along with swag bags sponsored by Oasis.
About the BDB: The Business Development Board of Palm Beach County is the official public/private economic development organization for Palm Beach County and Enterprise Florida.  Founded in 1982 as a not-for-profit corporation, our primary purpose is to attract and retain new industry, business investment, high quality jobs and workforce development through corporate relocations, expansions and international trade. During the past five years, the BDB has assisted companies that have created more than 12,822 direct jobs with average salaries greater than $69,062, resulting in more than $777 million in capital investment to Palm Beach County and an economic impact that exceeds $6.87 billion.  Additional information can be found at the BDB's web site, BDB.org.