The BDB worked with the School District and CareerSource Palm Beach County to bring together high schools and local companies so that students could learn about career paths and the possibilities that are open to them as the county continues to attract more employers. Students enjoyed interaction with employers and workers in the growing sectors of Life Sciences, Aerospace/Aviation/Engineering, Business Financial Services, and Manufacturing. Other industries represented were Construction/Trades, Real Estate, Hospitality, Tourism, Public Safety, Healthcare, Entrepreneurship, Education, Government, and Exercise Science.
The daylong event featured a series of panel discussions with Palm Beach County business leaders from a wide range of industries, as well as the "soft skills" needed for success in the business world.  The panel discussions included representatives from Florida Power & Light, Enhance Advisors, Pratt & Whitney, Scripps Florida, Palm Beach County Sheriff's Office, The Weitz Company, and JFK Medical Center. CareerSource hosted the soft skills session and Junior Achievement of the Palm Beaches & Treasure Coast provided the panel moderator.

According to Kelly Smallridge, President  & CEO of the Business Development Board of Palm Beach County, hundreds of students and about 50 Palm Beach County companies participated in the discussions and exhibition hall.  Smallridge said,  "This extraordinary partnership among the Palm Beach County School District, Palm Beach County companies and the Business Development Board demonstrates that the County is a community that means business and invests in the future of our workforce.  As more companies are attracted to the advantages of doing business here, Palm Beach County will be ready with a skilled and informed pool of qualified workers."
"This event is a culmination of an entire community of stakeholders coming together and providing information for our future workforce. It's great to see the partnership of the BDB, CareerSource, and the School District of Palm Beach County aligning our efforts to benefit Palm Beach County and our students", said Dr. Peter Licata of the Department of Choice and Career Options for the School District of Palm Beach County.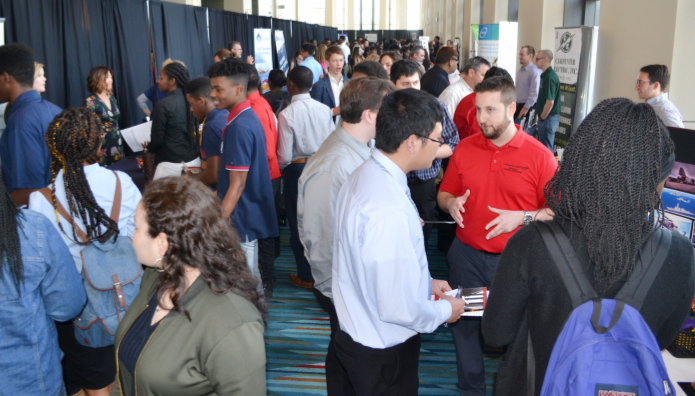 Reflecting on the event, Michael Corbit, director of business development, CareerSource Palm Beach County, said, "It's a great community event that provides local high school students the opportunity to interface with local businesses to help them identify potential career paths in Palm Beach County."
The showcase sponsors included the BDB's investor partners Pratt & Whitney, Aerojet Rocketdyne, Bank of America, Equestrian Sport Productions, GL Homes, and BB&T. Prize giveaways were provided by ESPN West Palm, Two Degrees, SunFest and Peter Piper Pizza.
About the BDB: The Business Development Board of Palm Beach County is the official public/private economic development organization for Palm Beach County and Enterprise Florida.  Founded in 1982 as a not-for-profit corporation, our primary purpose is to attract and retain new industry, business investment, high quality jobs and workforce development through corporate relocations, expansions and international trade. During the past five years, the BDB has assisted companies that have created more than 13,382 direct jobs with average salaries greater than $69,923, resulting in more than $668 million in capital investment to Palm Beach County and an economic impact that exceeds $7.33 billion.  Additional information can be found at the BDB's web site, BDB.org.