As vice president of existing industry at the Business Development Board of Palm Beach County, Shereena Coleman works with companies that, just like hermit crabs, have grown too big for their shell and need help moving into a bigger one.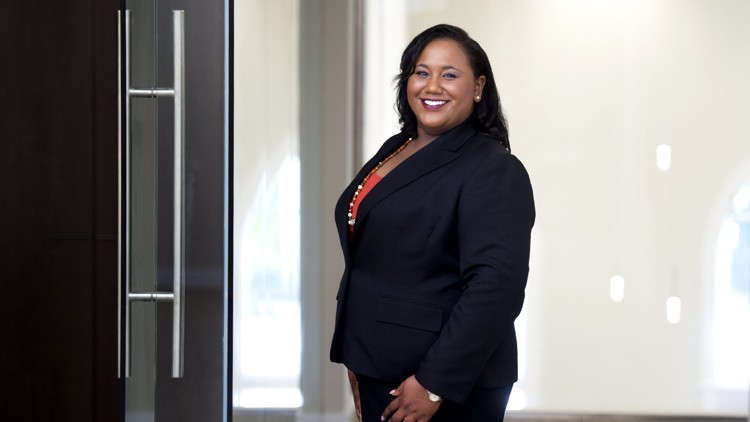 Shereena Coleman is the Business Development Board's vice president of existing industry Thursday July 27, 2017 in West Palm Beach.
(Meghan McCarthy/ The Palm Beach Post)
Each year she meets with more than 100 companies and assists them with finding the resources to support their growth and ensuring that it is done in Palm Beach County. Among the companies she has helped grow is medical device manufacturer Tecomet, which expanded its operations in Riviera Beach and created 178 jobs.
Name: Shereena Coleman
Age: 34
Hometown: Queens, New York
Education: B.S. in Psychology from Rollins College
Family: Middle child in a close knit, fun loving family; married to the most caring and patient man in America; owned by one Maine Coon cat.
About your organization: I head up the Business Development Board of Palm Beach County's Existing Industry program. I get the opportunity to consult one-on-one with amazing companies who already call Palm Beach County home, sharing the best resources to help their business grow. I also focus on initiatives that maintain Palm Beach County's competitiveness which assists the BDB's efforts in attracting new businesses.
First paying job and what you learned from it: My first job was working at a preschool close to where I went to boarding school in Wellesley, Mass. The best lesson I learned was to never underestimate the importance of effective communication. Through those three and four-year-olds, I witnessed firsthand a behavior that was taught to each of us that we often take for granted — how to use the correct words to convey your thoughts. Ultimately, I learned that being an effective communicator comes with practice and it's not a skill that you instantly wake up with one day.
First break in the business: I was introduced to the world of economic development while at Enterprise Florida, the statewide economic development agency. I had the privilege of managing the state's relationship with all 67 county economic development organizations. It was great learning about the attributes of Florida's diverse communities and how each of them support existing businesses while balancing the efforts of attracting new ones.
How your business has changed: Economic development and how we do business in general is transforming before us. More than ever, it is important for economic developers to cultivate strong relationships with business and community leaders to collaborate on making the business environment as comprehensive as possible for existing businesses. That's the reason the BDB's business visitation program and other key initiatives to engage companies are essential components of what we do.
Best business book you ever read: "Mr. Schmooze: The Art and Science of Selling Through Relationships," by Richard Abraham. This is a fun read where the subject of the book, Mr. Schmooze, was a consultant at the BDB's annual Site Selection Consultant Familiarization Tour. The book shows how generating contagious, positive feelings can affect your ability to be a major influencer in business relationships.
Best piece of business advice you ever received: It's no secret that I'm passionate about what I do and love helping companies get on the right track to reach their fullest potential. However, I don't always have all of the answers to every conceivable problem at my fingertips. The best advice I ever received is that you never have to have all of the answers, but with a positive approach you'll be amazed at how effortlessly the solutions appear. Like Mark Zuckerberg said, "If you just work on stuff that you like and you're passionate about, you don't have to have a master plan with how things will play out."
What you tell young people about your business: I recently had a summer intern and at the close of each week, I would say "Okay, what did you learn about economic development this week?" My goal was to expand on what he thought he knew about the industry and show that what we do impacts Palm Beach County's economic prosperity. Most people need help defining what economic development is, so it's important to provide education on the BDB's 35-year mission of stimulating economic energy and promoting business diversity here in the County.
Many successful people learn from failure. Do you have a failure you can share and what you learned from it? Knock on wood, I am fortunate to say that I have not experienced major failures in my career — just subtle nudges from the universe to take an alternative path to success.
What do you see ahead for Palm Beach County? Our county is quickly becoming the epicenter of innovation across a number of industries, including Information Technology, the Life Sciences, and Manufacturing. This coupled with a quality of life rivaled by nowhere else and easy access to international markets will continue to expose Palm Beach County as the most desirable place to live and do business in the country.
Power lunch spot: In downtown West Palm Beach there are many incredible places to choose from. I'll have to go with my personal favorite, Avocado Grill.
Where we would find you when you're not at the office: I'm always perfecting a new recipe, so you'll find me in my kitchen at home. Being the daughter of a professional chef has taught me how to be passionate about a hobby that can make so many people happy.
Favorite smartphone app: For some inexplicable reason, I'm obsessed with weather predictions, so my favorite app is the AccuWeather — Weather for Life app. Not only do I get by the minute weather updates, it even lets me know exactly how long a South Florida thunderstorm will last.
What is the most important trait you look for when hiring? In my opinion, the most important trait is the level of emotional intelligence the person has. The ability to manage your own emotions and the emotions of others is an underrated measure of success, especially in situations of high stress. To find a highly emotionally intelligent individual that can easily be trained is a true bonus.
Palm Beach Post
By Susan Salisbury – Palm Beach Post Staff Writer